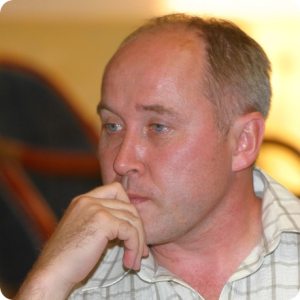 Painter. Was born on May, 6th 1962 in Tatarstan. Lives and works in Western Siberia. Studied painting since 1981, his teacher was the artist Svetlana Georgievna Kozhevina. His works are in private collections in Russia and abroad.
About painting
"People perceive sounds, smells, colors.
Color is the most abstract concept, all the other more specific. Even untrained people can distinguish good music from bad music.
The main thing in painting is not the color, not the shades but the contiguous colors.
I don't mix the paints I apply them in layers with a palette knife.
I draw the movement anatomically wrong. The face does not matter, because the figures in my pictures are not so much the people as their emotions and movements.
Like in the films of Paradjanov: color_movement_subject_memory or analogy. I have the same components.
For me, the main painter, more top, more precisely the God of painting is Matisse.
And the Savior is Van Gogh.
If one continue, Gauguin, Bonnard, Filonov, Zverev.
And I would put a monument for the "Caprichos" Goya".
Mars Kalimullin