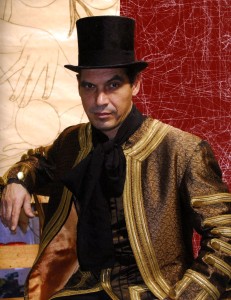 Volodja Popov-Masagin
Painter. Member of the Union of Artists of Russia. Was born on September 26th, 1961 in the town of Michurinsk, Tambov region. Studied at children's art school of the city of Michurinsk. In 1976-1980 studied at the Abramtsevo art-industrial school named after Vasnetsov. In 1980-1988 he studied in art-industrial Academy named after Mukhina at the Department of monumental painting. Since 2000 lives and works in Paris. Since 2002 he joined the House of artists of France. Participant of numerous exhibitions, including personal.
Exhibition activity.
Personal exhibitions:
1994 – gallery "DU VIEX PORT", La Rochelle, France
1995 – gallery "LAS SIRENAS", Segovia, Spain
1999 – exhibition at the municipal gallery, Bonn, Germany
2000 – gallery "BOUVET LADUBAY", Lengerlich, Germany
2001 – gallery "ESPACE DANIEL SORANO", Vincennec, France
2002 – gallery"ARTCLUB", Paris, France
2003 – gallery "Frankfurt-am-Main", Augsbrug, Germany
2004 – gallery "DE LA PLACE", Lyon, France
2005 – gallery "BRUNSTINGERHOF", Beilen, Holland
2007 – gallery AKUM, Vienna, Austria
2008 – gallery "Sambre", Rennes, France
2009 – gallery "Noordeinde",Hague, Holland
2010 – gallery "FORT DHOEDIC, island Edik, France
2011 – exhibition in Khabarovsk region state
art Museum, Khabarovsk, Russia
2012 – exhibition in the Ryazan regional government
art Museum, Ryazan, Russia.
His works are in the collection of the city hall Bressuire (France), the headquarters of the reunification of Germany in Bonn, in private collections in Russia, Germany, France, Norway, Holland, Spain, USA.